Advanced Health Group's Privacy Policy
Advanced Health Group respects your privacy. We will not release any personally identifiable information such as your name, address, e-mail address, phone number or credit card information without your consent. During the checkout process, we collect personal information so that we may process your order.
Advanced Health Group will only share or disclose such information in order to conform to the edicts of the law; protect and defend the right or property of Advanced Health Group; or act under exigent circumstances to protect the personal safety of its members or the public.
Secure ordering online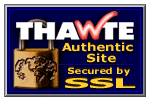 Advanced Health Group uses technology called Secure Socket Layer (SSL) to encrypt any personal information you transmit to us online. The information is encrypted on your computer and decoded after it reaches Advanced Health Group's secure server. This information cannot be decrypted during transit. Payment information is stored on a different server with a different payment password, which is changed at least weekly.
If you are still nervous about ordering online, once you have selected your products we encourage you to call our Customer Care department at (888) 421-0374 and one of our Customer Care agents will be happy to take your order. You may also print out an order form and mail your order to us at: Order Department, Advanced Health Group, 4250 South Granby Way, Suite C, Aurora, CO 80014, or fax it to us at (419) 844-5834. Please mention internet code #103 if ordering by phone.
What information we collect and why
We collect personal information primarily so that we may process your order, but also so that we may enhance our services to you and make your shopping experience as unique as possible. Our goal is to provide not only the best value on the products we sell, but also the highest level of service possible. In addition to personal information collected for purposes of processing your order, we may ask for the following information:
Billing and Shipping Information. During the checkout process, we ask for certain personal information - name, address, e-mail, telephone number and credit card information - all of which are necessary for us to process your order and ship it to you. Basic personal information such as name, address and telephone number, but not credit card numbers, may be transmitted to contracted third parties solely for the purpose of shipping your order. As described above, ordering with Advanced Health Group/Natural Curves is safe and secure because we use the latest in Secure Socket Layer Technology which encrypts the information you send to us. This information cannot be decrypted during transmission and decoded on our Secure Server, which cannot be accessed by 3rd parties.
Retrieving Information. At any time, you may request from Advanced Health Group the information we have collected from you. Just send an e-mail to support@advancedhealthgroupcom. To protect your privacy, we will only e-mail this information to the e-mail address associated with the particular order and we will NOT e-mail credit card information. Advanced Health Group/Natural Curves.com does not give out personal information over the phone.
E-mail Addresses. At any time, you may modify your account information by sending an e-mail to support@advancedhealthgroupcom. To stop receiving e-mail communication from us, send an e-mail to support@advancedhealthgroupcom and type "unsubscribe" in the subject line of the message. While Advanced Health Group strictly enforces its Privacy Policy with respect to all information gathered on our site, we are not responsible for any information you provide to other web sites you may access through hyper links on our site.
Cookies
"Cookies" are pieces of information that are stored by your Web browser on your computer's hard drive. Advanced Health Group's cookies do not contain any personally identifying information, but they do enable us to store items in your shopping cart between visits. Most Web browsers automatically accept cookies, but you can usually change your browser's settings to prevent that. Even without a cookie, you can still use most of the features on our website, including placing items in your shopping cart and purchasing them.
Parental consent
Our privacy policy prohibits us from creating Checkout accounts for children under the age of 13. Should those under 13 wish to make purchases on our site, we encourage them to do so with parental consent and through their parents' personal account. Please do not hesitate to contact our Customer Care department at support@advancedhealthgroupcom should you have any additional questions or concerns.
---
Home | Meet the Formulator | How All Natural Curves Works | Science of Breast Development | SP975 The All Natural Curves Difference| Dangers of Breast Implants | Our Ingredients | What Customers Have to Say | F.A.Q. | Guarantee | How to Order
---
This Affiliate Website is owned by Nancy Kramer, ID #103.
Please mention this code if ordering by phone or fax.
---
Entire Site Copyright © 2002 Advanced Health Group
All Rights Reserved
Neither this product or statements about it have been evaluated by the Food and Drug Administration. This product is not intended to diagnose, treat, cure or prevent any disease.